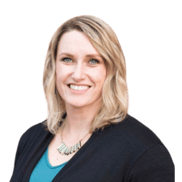 At Apex, we believe that our greatest strength is our people. We are proud of our talented and dedicated team who enact our core values to deliver the right workspace every day. In this employee spotlight, we caught up with Amy Andersen, an incredible addition to our team as a Business Development/Account Manager.
What is your favorite aspect of your role at Apex?
My favorite aspect is creating new connections in the industry. Whether it's with new clients as we work on a project together or with manufacturer reps learning about new products, I enjoy making those connections and building relationships that last for years.
What's the best piece of advice you've been given?
"Give it time."
I'm not the most patient person in the world, so I have a hard time waiting for results after putting in a lot of hard work. I have to constantly be reminded to give the process time, and just because someone doesn't need my service now, doesn't mean they won't need my service in the future.
What would you tell prospective Apex candidates?
Take the leap! While I have only been here for a short time, I have appreciated how willing everyone has been to help each other on projects, or in learning about the organization. From the top-down, everyone has offered their time to help as I build my book of business.
What benefits do you bring your clients?
I believe in being a consultant and not a salesperson. I will listen to what the client is looking for and then work with our team to create the best solution for them. I am also fully invested when working on a project, which means I'm not afraid to get my hands dirty. If you need me to present a design plan to your Executive Team, I will do that. If you need me to be involved during installation, placing furniture, and breaking down boxes, I will do that too.
If you could do anything and know you would not fail, what would it be?
Start a non-profit for caretakers. Everyone focuses on the patient during sickness, which is where the majority of the focus needs to go, but we also need to focus on helping those friends and family members devoting their lives to those patients while also having a daily life filled with work and their own family.
Tell us something about you that we otherwise wouldn't know?
I grew up on a wheat farm in Eastern WA, and some of my first jobs were helping run the grain elevator and driving the wheat truck during harvest every summer. I still visit the farm often and love to watch the process of the wheat changing throughout the year.
If you could choose anyone, who would you pick as your mentor?
Lindsay Teague Moreno. She knows how to help you set goals, reach them, and doesn't sugarcoat the process.
What makes Apex a great place to work?
The fact that our leaders truly care about how their employees feel daily is refreshing. I have not been part of an organization where so many conversations have revolved around what is motivating the employees, or how they feel about different aspects of the business.
Which of the four Apex traits speaks the most to you and why?
Curious & Continuous Learner: As someone who focuses on selling new furniture, I have to stay up on the latest trends in the industry: which manufacturers have what products available, and what products will be suitable for which spaces. This is ever-changing, so we are constantly learning.