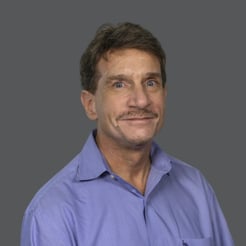 At Apex, our greatest pride is our employees and that is why we sit down with each of our team members to get to know them better. Most importantly, we would like to provide our clients with an opportunity to get to know them as well.
What is your favorite aspect of your role at Apex?
I have many things that I love about my job. But my passion is connecting with existing and new clients that own or manage mid-range and luxury hotels where I can share my extensive experience in managing furniture, fixtures, and equipment (FF&E) installations and logistics.
What's the best piece of advice you've been given?
Don't send emotionally based business correspondence. You will maintain your credibility by conveying the facts. Maintain connections and don't burn bridges, you never know when someone from your past may be connected to your future.
What would you tell prospective Apex candidates?
That Apex is comprised of a team of highly talented professionals and top-performers in all departments from Executive to Warehouse and that we have some of the most talented FF&E installers in the Pacific Northwest. Our leadership embraces continued learning and it helps the team continue to grow.
What benefits do you bring your clients?
With my strong background in FF&E, I have grown from my mistakes in the early years of my career and developed from those lessons. Now after 20 years this knowledge is of great value to my clients. I have many best practices for saving hotel owners a lot of money related to FF&E logistics and installation programs. I can also provide procurement solutions for back-of-house office furniture needs with substantial savings for hotel ownership.
Tell us something about you that we otherwise wouldn't know?
I was a waiter at the Space Needle Restaurant for 4 years in the mid 80's while going to school. I am writing a book about my experiences working in a high-profile tourist attraction.
If you could choose anyone, who would you pick as your mentor?
I think if I had to choose just one person as an iconic mentor it would be Jeff Bezos in his early career years. But realistically, I have had some of the best bosses in my entire career and have looked to most of them as mentors. I am currently gaining a fast and thorough education from John Williams in all aspects of new office furniture and related commercial markets. Steve Turner has been a great mentor in helping me build my project management skills.
What makes Apex a great place to work?
I love the collaborative environment at Apex. Everyone is quick to help out another team member when they need it.
Which part of our company DNA speaks the most to you and why?
Finisher vs. Starter. I strive to work hard for my clients so I can always exceed their expectations.