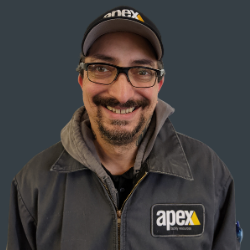 At Apex, we believe that our greatest strength is the people that make up our team. With that we would like to introduce you to Allen Francisco, Shipping and Receiving Specialist on our Operations team. He has been with Apex for the last five years and continues to be a valuable asset to our team.
What keeps you passionate outside of work?
Anything outdoors, hunting, fishing, camping, spending time with my family and dogs.
What is your favorite aspect of your role at Apex?
Being able to help customers and the challenge of doing that. I like making the impossible happen for a client.
How do you keep a healthy work/life balance?
I like to play hard when not at work. We live in a wonderful part of the country that offers a multitude of outdoor activities and whether hiking, biking, kayaking, skiing I always enjoy the exhilaration that comes from our great northwest region. I also have a wonderful family that keeps me grounded, focused and energized for the days ahead.
What's the best piece of advice you've been given?
I was working at a bad job and my Grandfather told me to hang in there, there is always room for advancement. I was able to leave that company and went where there was room for advancement and I have been doing well ever since.
What's your favorite restaurant in Seattle?
Metropolitan Grill
Where is your favorite place to travel to and why?

Kauai, it's a place I like to go to for rest and relaxation but it has enough touristy things to do.
If you could do anything and know you would not fail, what would it be?
Tell us something about you that we otherwise wouldn't know?
I am a Cancer Survivor. I was diagnosed with cancer in 2010 and it wasn't until 2014 that I was pronounced 100% cancer-free. I worked the whole four years during my course of treatment.
If you could pick a mentor who would it be?
Steve Turner, he started out as a Warehouse worker, and now look where he is at. He has kicked butt I admire him and respect him I would love to grow under him.
What makes Apex a great place to work?
Family environment. I worked at several other companies in the industry and this is the only place I have ever enjoyed coming to work at.
Which part of our company DNA speaks the most to you and why?
"Continuous Learner" I want to learn as much as I can to grow with the company and move up.