Improve your Workspace with Space Management Software
We recognize that the modern workplace requires flexibility and options as companies figure out how to reduce their real estate overhead, enable work-life balance, respond to COVID and make the most out of their physical environment. That is why we endeavored to help our clients create smarter workspaces, by partnering with OfficeSpace Software to provide an integrated workplace management system constructed to give you everything you need to help manage your workspace. This is an ideal solution for companies that have over 200 employees across multiple floors or locations.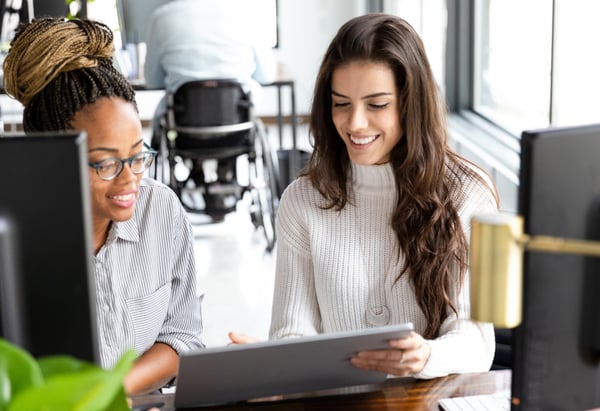 Plan Your Space
Design Planning:
Creating a space that works for everyone while incorporating social distancing can lead you to attempt to visualize several floor plan ideas as you try to find the optimal setting. The Scenario Planning tool helps you to visualize your options to find the best outcome for all teams involved.

Tackle Changes:
Collaborative workplaces that feature a mix of environments, come with a variety of changes. Get lists of steps you need to complete to implement your updates whether it is seat changes, room updates, or utility needs.

Understand your Space at a Glance:
By stacking plans, you can view your space at a high level so you can visualize teams throughout your locations. This allows you to easily move groups of people to optimize their performance within the space and drive efficiency.
Manage Operations
Desk Booking:
As you optimize your space for the hybrid environment set up your desking solutions to suit all types of teams. Creating flexible seating allows for multiple sets of needs to be easily met. Think about the variety of teams that make up a company and the needs they have. They may be more heads down and need a set space or more creative and collaborative.
Change Management:
Gone are the days of one-off emails requesting work orders or desk changes. Now you can centralize all updates to one feed and tie them to a specific location. You can now visually track exactly where the requests are for on any device.
Move Management:
Flexibility is a necessity in facilities management. By utilizing the move management tool, you can collaborate with teams to let people do their own requesting. Yet still, be the final step of approval.
Connect your Teams
Workplace Directory:
Book. Connect. It is as easy as that for your employees. Whether they are on the go looking for a quick touchdown point or planning to set up a new employee. The versatility of having a workplace director allows your team to stay up to date on all organizational details in the office.
Integrated Communication:
This software aims to simplify communications amongst teams by offering integrations with Slack and Teams. Your teams can now easily check into rooms, manage desk bookings, and send requests all within these applications so they can find the people, places, and resources they need to stay productive.
Keep your Team Safe:
While we move into a post-Covid world we cannot hold onto the practices of Pre-Covid. Set up precautions before your employees arrive onsite so that you can maintain the necessary precautions. By automatically sending wellness forms or safety checks prior to their arrival. If they fail, the system will cancel their reservation so another employee can access it.