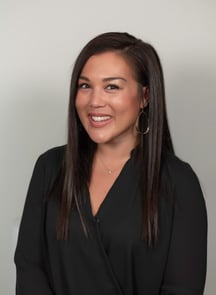 At Apex, we believe that our greatest strength is our people. We are proud of our talented and dedicated team who enact our core values to deliver the right workspace every day. In this employee spotlight, we caught up with Jessica Ashley - our Senior Designer! Read on to learn more about Jessica:
What is your favorite aspect of your role at Apex?
It is very rewarding being able to enhance the lives of my clients through good design and appropriate furniture selection. I love hearing statements like: "the office feels so much bigger now" "we are collaborating as a team more" "my back doesn't hurt anymore because I have a great chair" "I am so much more productive in my new workstation"
What's the best piece of advice you've been given?
Learn to embrace uncertainty and "lean in" even when things feel scary.
What would you tell prospective Apex candidates?
If you don't want to be put in a box, then you have come to the right place. Be prepared to be challenged, embrace change, call your own shots, and work with an amazing team.
What benefits do you bring your clients?
Knowledge & partnership. I am the subject matter expert when it comes to office furniture design/product so I like to bring that knowledge and advocate the best results for my clients which ultimately creates a partnership.
If you could do anything and know you would not fail, what would it be?
I'm not a huge thrill seeker but that stuff intrigues me. I would skydive if I knew I would 100% for sure land safely back on the ground haha.
Tell us something about you that we otherwise wouldn't know?
I was a barista for 7 years! Worked in numerous coffee shops/stands all through HS & college.
If you could choose anyone, who would you pick as your mentor?
Michelle Obama- I love her advocacy and passion for empowering & educating women & young girls. I also love her humble upbringing and family values. She is a strong, intelligent, and confident woman.
What makes Apex a great place to work?
The employees and the trust & freedom from the leadership.
Which part of our company DNA speaks the most to you and why?
"Improving the lives of others," it feels good knowing the work you are doing makes a difference in someone's life.