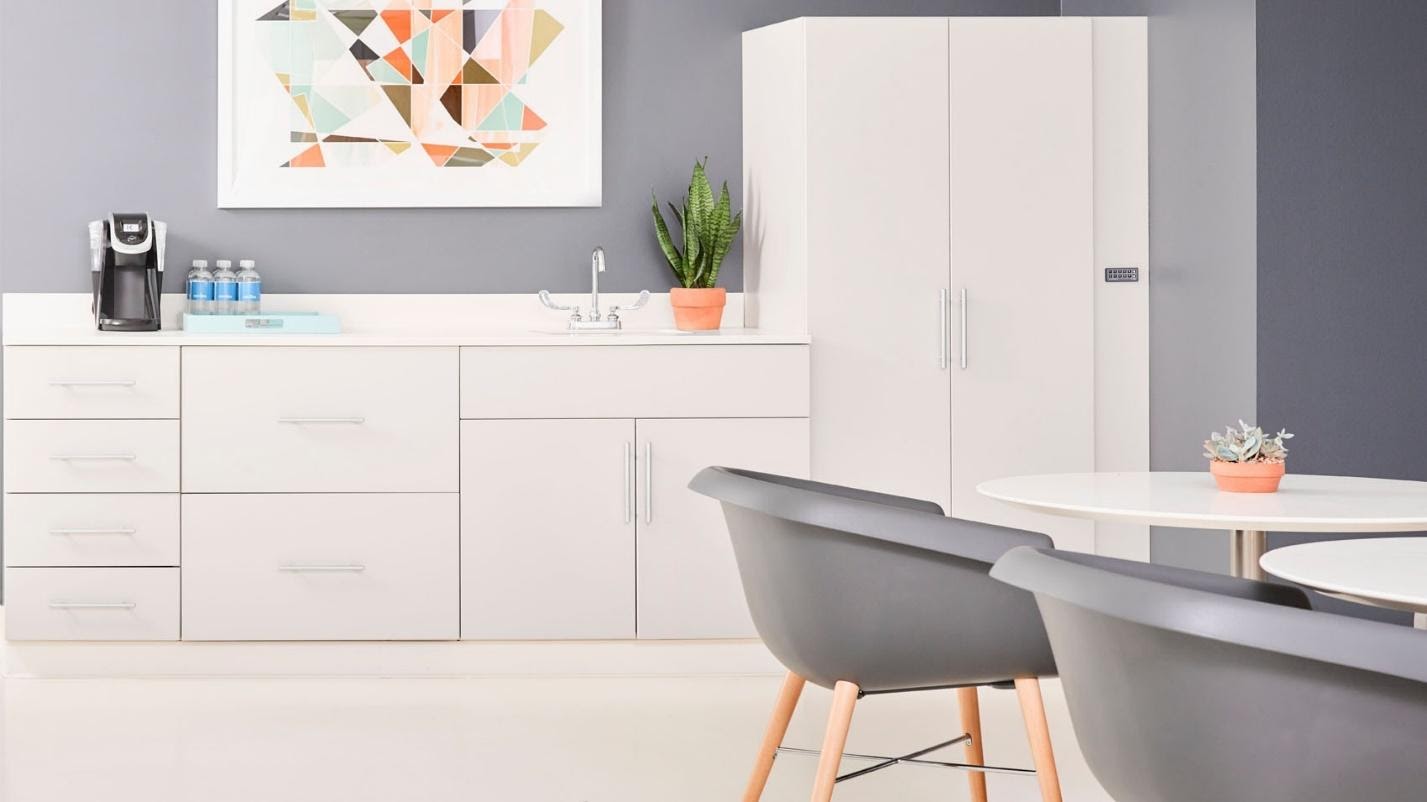 Modular cabinets are all too often the wallflower of workspace solutions, overshadowed by other products such as architectural walls, flooring, lighting, and ceiling treatments. The reality, however, is that this form of cabinetry is one of the most versatile and cost-saving investments you can make for your workspace. Here's why:

1. They're flexible

Modular cabinets are comprised of three basic parts: wall, base, and storage units. Each unit is secured to a wall with a French cleat (wall-mounting rail) and secured via metal-to-metal cabinet connections.

This configuration makes repurposing, reconfiguring, and relocating your modular cabinets simple. There's no need to tear down traditional millwork cabinetry. You control which cabinets you move or change, unit by unit.

2. They're durable

They may not look like tanks, but they hold up, even in high-traffic workspaces. Wall cabinets can hold up to 580 pounds when they rest on a 72-in-wide wall rail. Industrial-grade hinges secure door and drawers, preventing the annoying "droop effect" frequently observed in other products.

3. They're customizable

Door and drawer fronts are available in a variety of low- and high-pressure laminates, as well as wood. Tempered glass doors are available in clear or frosted options.

Add countertops. Add backsplashes. Yes, even the kitchen sink can come along too.

4. They'll save you time and money

With their ability to be quickly and easily installed, relocated, and reconfigured (post-construction) modular cabinets minimize downtime while delivering overall cost savings. They're also user-friendly, which eliminates the need for hiring professional contractors to make modifications to your investment.

5. They're good for the environment

Whether you're seeking LEED-CI credits or just want to do your part to preserve the environment, modular cabinets do their part in minimizing waste and promoting an environmentally conscious work environment.

Modular cabinets are Greenguard certified for Indoor Air Quality. They're also produced from 94.7 percent recyclable materials. Factor in their ease of relocation and reconfiguration, along with their multitude of applications, and you'll see that these reusable cabinets are an environmentally responsible alternative to traditional construction.

To learn more about modular cabinets contact us to chat about whether modular cabinets are the right choice for your workspace improvement project.