It's 4 pm on a Thursday and you realize you're not even halfway done with the week's tasks.
Suddenly dread sets in as you realize your Friday, once again, will be jam-packed with all the work you thought you could complete earlier.
Sound familiar? Sometimes, setting goals isn't enough.
Modern technology and the same devices that give us so much, also take away in the form of productivity.
You need to become more productive – but how?
To unlock your most productive self, you need a few things:
A workflow that you can rely on

A way to journal and take notes

A way to optimize the time you spend working

A way to block out distractions
We compiled a few productivity tools to set you on the right path. They'll help you identify and transform the problem areas in your workflow so that you can work at your full potential.
The Pomodoro Techniqu
e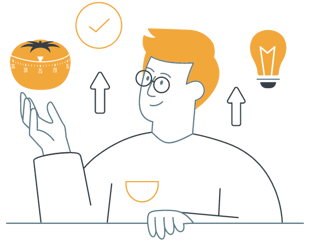 The Pomodoro Technique is the ultimate offline productivity tool to
improve your focus.
Pomodoro literally means tomato in Italian, but the technique gets its name from the Pomodoro kitchen timers in the shape of tomatoes.
How does this technique work?
Divide your workday into "Pomodoros" – 25-minute blocks of time with breaks in between. After each block of time, take a five-minute break. On the 4th Pomodoro, take a longer break. This will keep you productive and maintain your energy levels throughout the day.
RescueTime
RescueTime is the best cross-platform time tracker available. This app runs in the background, automatically tracking your time on different tasks - no manual input is required. You can even look back and analyze over three months of data to see exactly where all that time went. If you know what's distracting you, you can develop more productive work habits in the future.
Notion
Knowledge management isn't just good for businesses – it's vital for personal productivity, too. With Notion, collecting, categorizing, and connecting knowledge has never been easier. This online platform allows you to store ideas and resources in your private workspace, so you never waste time looking for information again.
Best of all, it's free for personal use.
Bullet Journaling
If your head is in the right place, productivity will follow. Bullet journaling is an intuitive way to understand your mentality. A bullet journal is a well-organized notebook, pre-printed with dedicated pages for tasks, goals, personal insights, and notes. Although time trackers will show you how you spend your time, only a bullet journal can give you a deep, holistic impression of your working life.
How to Bullet Journal (Ryder Carroll, Creator of the Bullet Journal®)
Todoist
If you want to set day-to-day goals quickly and simply, Todoist offers a stripped-back approach to bullet journaling. This app turns the humble to-do list into a powerful productivity tool; you can set tasks with priority rankings, plus integrated sub-tasks that break down projects into manageable chunks.
Make
Make is an automation tool that connects your most-used apps and APIs. Automate your workflow and instantly complete menial tasks – without any programming experience. Plus, the simple drag-and-drop editor gives you complete flexibility, so your integrations can be as streamlined or as complex as you like. Automation does the grunt work for you so that you can spend your time more productively.
Note: Make was formerly Integromat
Pushbullet
How many devices do you use in a day?
Most of us will constantly switch between our phones, tablets, and laptops, wasting valuable time on distracting transitions. Pushbullet connects all your devices so that you can see phone notifications on your laptop and documents on your phone – indispensable for multi-device working.
Freedom
When you've got the whole internet at your fingertips, it's hard to stop yourself from procrastinating. Freedom is an advanced blocker app that restricts you from accessing distracting sites and apps. Although there are lots of blockers on the market, Freedom goes further; it creates a "focus zone" across all your devices, so you can't just switch to your phone for a sneaky look at your socials.
Adding just one of these tools can help you maintain goals, manage tasks, and track your progress. This allows for a more effective work-life balance and less opportunity for that end-of-week dread.