For the last few months, we have seen a growing interest from employees regarding a 'hybrid office' - an arrangement that enables employees to blend the productivity found while working from home with the creativity and development of collaboration while in the office. Employees have felt the weight of limited social engagement from working from home full-time but have also noted that fully returning to the office isn't the solution.
Office space can foster community and connection
This past year has shown us that going to the office was not just about work, rather it is about community and collaboration. The connection of being in the office allowed for random moments of creativity that cannot be created in the same way in a conference call. In this Gensler survey, respondents cited that innovation and creativity thrive when people are together and suffer when they're separated.
Moving forward, CEOs and office managers need to take the time to rethink their office space and consider changing the focus to establishing a 'culture space' that fosters uninhibited collaboration at the heart of the concept. With the design of a hybrid office, employees can get the interaction they need and still be productive. Those collaborative spaces are a key element to harnessing energetic exchanges, attracting talent, and creating the shared vision businesses need to thrive.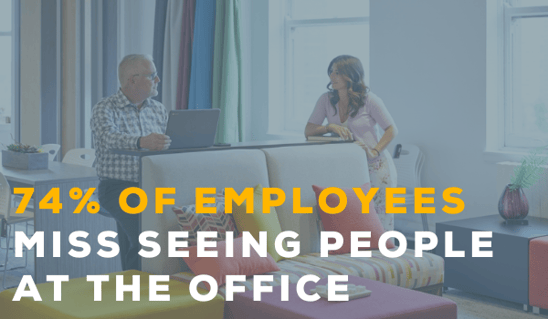 Product Featured: AIS LB Lounge High Back with Ledge and Rutland Perch
While employees work from home, studies continue to show their desire to collaborate. The Gensler Research Institute found that 74% of those surveyed say "the people" are what they miss most about the office, with 45% missing the community aspect. Employees need a dedicated place to gather, tackle projects, and share knowledge, more than they need individual workstations. The heightened awareness of social distancing has disrupted the concept of packing in as many workstations as possible (with meeting spaces squeezed around the edges of the office).
Reshaping the Flow of the Office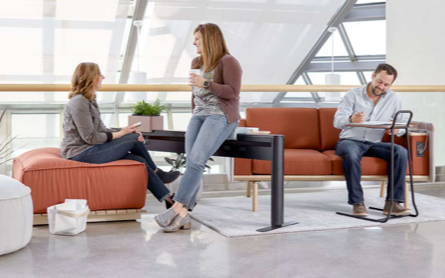 Imagine an inviting core of multi-purpose collaboration areas, with strategic work zones radiating out, all within a small footprint. These gathering areas are flexible and allow for face-to-face interaction throughout the day. These human interactions help employees to build relationships with each other and feel more energized. Remote meetings have become task-oriented and eliminate the option to 'pop by' and spur innovative moments.
Product Featured: OFS Agile, Heya, and Hinchada
We have seen how employees have adjusted to the work-from-home lifestyle; the office needs to add locations that establish the same level of comfort as residential areas, but with higher quality. Fortunately, there is a well-developed range of products in the residential-commercial style that fit the bill. Done right, these areas are inviting, comfortable spaces to work in for a few hours or a full day. If the collaboration spaces are considered as part of the workstation footprint, it will save on square footage and minimize space density.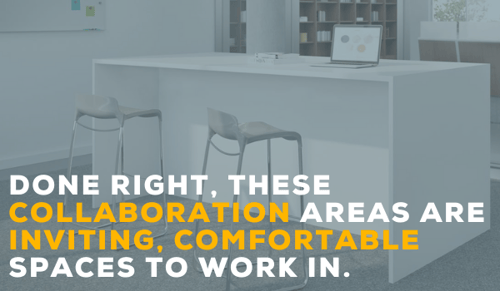 Product Featured: OFS Intermix Collaboration Table
These items have comfort and style while providing features to get serious work done, including integrated power, ergonomic seating, and acoustic management. Lounge seating with built-in power for example, or systems that can transition from meeting tables to individual desks.
Harness the Energy of Collaboration
The collaboration core of a hybrid office is often an energetic place. Sound control and visual delineation can be added to reduce distraction. These elements offer wonderful opportunities to add style and cultural elements to the overall office design. High-backed furniture, hanging screens, and plants all work great. They provide visual interest, maintain an open feeling, and instill positivity.
The placement of traditional video meeting rooms and conference rooms can follow one of the two strategies below:
Structure the main conference space in the center core as an extension of the collaboration. By shifting interior offices to the center of the floor plan, natural light can be shared.

Separate them and place them along glass windows to minimize distraction while maximizing natural light.
Within the collaboration area, it is a good idea to have break-out spaces and additional drop-in desks that are height adjustable. These stations likely will not need storage but should provide the necessities for employees, including bag hooks, coat hooks, and monitor arms. These smaller details contribute to providing a welcoming environment for employees while also contributing to their ergonomic comfort.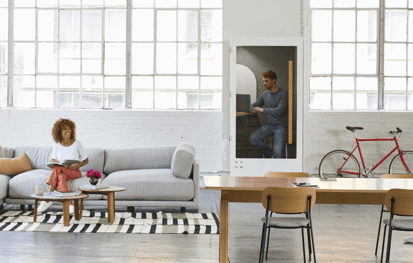 Phone booths are a convenient and flexible option to have near collaboration areas as they allow for quick drop-ins for private meetings and individual phone calls. High-quality booths cancel noise and are cost-competitive compared to traditional construction. This past year has shown that the entire workforce cannot become fully remote and your office may need to accommodate full-time employees who need a quiet space for focus.
Product Featured: Room Phone Booth
Consider placing those workstations furthest from the collaboration areas, to maintain productivity and eliminate distractions. Add taller partitions for limited distractions, privacy, and health safety. Incorporate storage that does not overtake the space but acts as a feature for their day-to-day necessities.
An office centered on unstructured collaboration and inspiration will create a dynamic space for human connection and innovation. Carefully chosen amenities create an employee-centered space that will bring the team together while also allowing for individual productivity.
Brought together, these concepts will create a great environment for hybrid businesses to thrive.