Creating a strong culture is an important element for companies looking to set themselves apart from their competitors. The modern workforce is looking for more out of their jobs than just salary. They want to work for companies that align with their values, can accommodate a variety of workstyles, and have relaxed, collaborative environments that foster creativity and productivity. Workspace design has become a critical factor to attracting and retaining talent.
How to Attract Talent:
Identify who you're looking for

Find out what's important to your target demographic

Create a flexible, evolving workspace that suits the needs of your talent
In the ultra-competitive tech industry, there is no shortage of startups seeking talented new team members as they grow. Bunchball, Inc. (a Silicon Valley-based software company known for their visionary work in gamification) had a vision for how they wanted to transform their work environment into one that encouraged their team to stick around and thrive. However, they lacked the time and internal expertise to create a comprehensive plan and execute their vision. They called on Apex to be their workspace partner for all of their facility needs, including strategic planning, office relocation, and design implementation.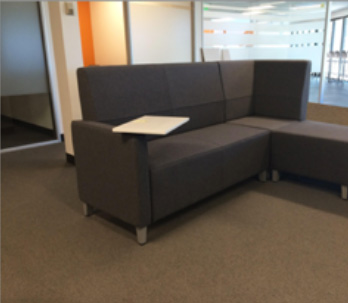 Sectional soft seating can be rearrange in infinite configurations.
Apex bridged workspace design and technology by giving everyone a sit to stand desk and dual monitor arms with integrated AV and desktop power units, a formal boardroom, phone rooms, and a multipurpose breakroom with social spaces and soft seating. We created an active, open-concept design, sourced and installed new furniture, reconfigured Bunchball's power and data beams, and managed the decommissioning of their old office space upon move out.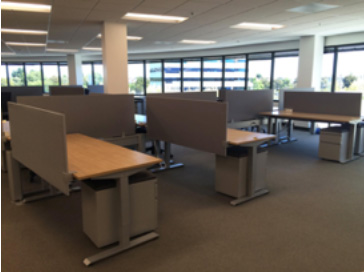 Power beam allows users to quickly and easily reconfigure their workstations.
Not only did Bunchball end up with a cutting-edge workspace that their team loves, but working with a single trusted partner for such a wide variety of services saved them the time of excessive vendor coordination and helped them source the most cost-effective solutions to suit their needs.
Contact Apex to see how we can help you attract and retain talented employees and foster a stronger company culture through strategic workspace design.